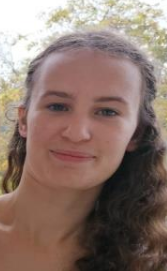 About Me
Name: Lea G
Age: 18
Country of origin: Germany
Driver's license: Full
Earliest arrival date: October 2022
Length of placement: 10 months
Willing to arrive earlier
Childcare experience: Day care centre for children, Tutoring children, Babysitting other relatives, Summer activity camps
Experience with children: Experienced with children 1 year and older Willing to care for children 2 years and older
Other qualifications:
Hobbies: Games, Voluntary work, Sports, Baking, Cooking, Ballroom Dancing, Singing, Listening to Music, Dance, Chess, Ultimate Frisbee
Willing to:
Stay with single Host Mom
Stay with single Host Dad
Stay with same-sex couples female
Stay with same-sex couples male
Stay with French-speaking families
Stay with pets - cats
Stay with pets- dogs
Message to the host family
I want to become an au pair, because I love it to work with kids. And I love the English language. I think its way easier to improve the language skills you already have and I think, it is the best way, and to learn something about the culture from the country you're in when you live in a host family. Also I want to have something like a second family on the other side of the world. And because I'm a single child, I thought that if everything works out the best, it feels like having siblings and being a part of the family.